St Kieran Newsletter Week 6- 12 March
ST KIERAN NEWS
LENT
This week I thought I would dig into lent a little bit more, but not necessarily the act of sacrifice but more the way in which we can adjust how and why we do things to one another. Lent is often a time given over to "holy" words of repentance and promises of self-reform but: "However many words you speak, what good will they do if you do not act on them?" Buddha.
There are many challenges of our times being not only political and social, they are also spiritual. The modern person has many issues that they are faced with not only in reality but also in perception and is difficult to grow spiritually, morally or ethically, if we fail to give due recognition that all people are equally valuable and important. We can't grow spiritually, morally or ethically if we treat people different to us in their appearance, manner and customs in order to make us feel more important. We will begin to grow spiritually, morally and ethically, when we are ready to sincerely embrace the truth and fascination of our differences and welcome the common yearnings we have about life. The blessing we have is that we are all unique!
Stephanie Dowrick expresses this sentiment beautifully when she writes: "Seeing life itself as sacred -yours, mine, all of life - makes our differences far less frightening. More importantly, it makes sense of how like one another we are in our simplest and most profound longings. Whatever our culture, religion or language, we want food, shelter and good health. We want to be able to get up in the morning, enthusiastically, and sleep safely at night. We want health, safety and happiness for our loved ones. We want to know that our lives are purposeful and sometimes gracious. We want to feel part of something greater than ourselves. We want and need inspiration and meaning."
St Paul in his inspiring letter to the people of Philippi encouraged them to, "Show an agreeable attitude to everyone". He suggested how they might be able to do this: "All that is true, all that is worthy of reverence, all that is holy and good, all that is lovely to look at and beautiful to hear, all that has virtue and all that deserves praise, let that be the content of your thinking." Phil. 4: 5,8,9. Our spirituality is as personal as our breath or our fingerprint, but, as we move through the forty days of Lent, we might on occasion, surrender freely to the quiet within us, to rediscover the resources and strengths that are there. We might begin to see better and appreciate more, the value of our existence, to see ourselves with more gratitude and respect and to see others in a like manner.
Thanks again for being such a welcoming and great community, we have a big week or so coming up and I look forward to celebrating the events with you all.
Take care and Best Wishes
Daine
Year 3 iPad's and Parent Meeting
As part of the iPad Program at St Kieran a Parent Meeting will be held on Tuesday 16th March for parents from 6 - 7pm for one adult per family in the Upper Learning Area. This meeting will go over the fundamentals behind the program, security questions and the agreement.
Parent Teacher Meetings
Parent teacher meetings will be held in Week 7 and 8. As a part of the reporting process for your child, all parents are asked to meet with their child's class teacher. You would have received contact from your child's class teacher regarding booking a meeting time. Meetings will be held face to face, in classrooms, unless a phone meeting has been arranged. If you have not booked a meeting time, please contact the class teacher directly.
100 Year Celebrations
Our 100 Year Celebrations are fast approaching. Lots of little jobs to be done on the day and we would love some volunteers to help out.
The sign up link is https://docs.google.com/spreadsheets/d/1Gc7dzwAU34TGbUjiK57zGnOhDKqOGJIEp7Jp25bL7gs/edit?fbclid=IwAR2QYsSuQWcVne-7tK0E-e127JG9eRIzA_HqynU_Mr9MDW4MdNmDVg1a3kY#gid=0
Thanking you in advance for your assistance.
Many hands make light work!
Parking in Front of Administration
Just a reminder to please not park in front of administration on Tyler Street. It is reserved for our Students with Additional Needs families. All other families walking in to collect or drop off their children are asked to park in the church car park.
BOOK CLUB ORDERS
Hi Parents,
Book club issue 2 is due no later than Tuesday 16th March.
A reminder that only online orders are accepted, no cash or cheques. You can place your order at www.scholastic.com.au/LOOP
If you have any issues, please feel free to come and see me in the Library in the morning or email me at jeremiah.jackson@cewa.edu.au
Have a great week
Jeremiah Jackson
Library Technician
COME CELEBRATE 100 YEARS AT ST KIERAN - SUNDAY 21st MARCH
Less than a fortnight to go before our Centenary Celebration!
We are very fortunate to have the Most Reverend Archbishop Timothy Costelloe and Bishop Sproxton officiating the mass for us at 11.00am.
Our school will be open for tours and entertainment from 12.00pm - 4.00pm, details are attached.
Feel free to register your attendance using this link https://bit.ly/3qrUUN4
If you have any enquiries, please do not hesitate to contact me.
With thanks
Lisa-Marie D'Alonzo
Chair, Centenary Committee
We would love some volunteers to help out on the day if you can.

The sign up link is https://docs.google.com/spreadsheets/d/1Gc7dzwAU34TGbUjiK57zGnOhDKqOGJIEp7Jp25bL7gs/edit?fbclid=IwAR2QYsSuQWcVne-7tK0E-e127JG9eRIzA_HqynU_Mr9MDW4MdNmDVg1a3kY#gid=0
EASTER EGG RAFFLE
PROJECT COMPASSION
St Kieran CPS 2021 Project Compassion Fundraiser – Be More!
This year, as part of our Project Compassion Fundraiser, we have been weighing and recording each class' amounts that they have raised each week. The year level with the combined greatest weight will win hot cross buns at the end of term. They will also earn 10 minutes of extra play. Of course, this fundraiser is not about prizes. We fully encourage each student to recognise that their spare change is going towards a worthy cause. Parents – please remind your kids to 'Be More' this year and donate!
Kind Regards,
Your Faith Pillar Leaders
Amy, Eva and Rosalia
ST KIERAN FUNDRAISER ENTERTAINMENT BOOK
Do you like to dine out, go to the movies and save money whilst enjoying yourself on the weekend? We are fundraising with Entertainment! 🧡 20% of your Entertainment Membership purchase comes directly to us and you unlock a year of savings. Plus you will receive a BONUS $10 or $20 eGift Card when you order your membership NOW. Discover thousands of offers, experiences and savings while supporting our cause. TO ORDER GO TO: https://www.entertainmentbook.com.au/orderbooks/8438s8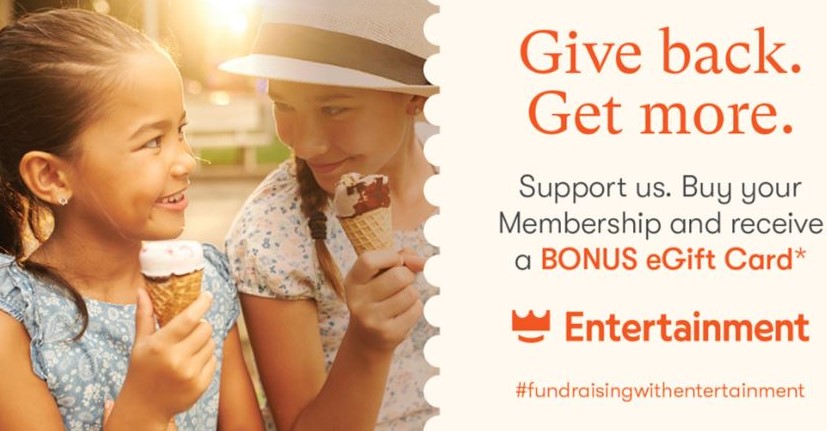 UPCOMING EVENTS
ST KIERAN PARISH NEWS
Dear St Kieran Parishioners
Mass TimeTable
Saturday: 6:30pm in English.
Sunday: 8am, 9am both in English. 10:15am - Italian Mass & 11:15am Brazilian Mass.
Please beware: COVID – 19 Phase 4 still in place and Physical Distancing is still essential when attending mass or any gatherings.
Please do not attend mass: if you feel unwell, have flu/Respiratory symptoms, elevated body temperatures or in the last (14days) have been in contact with persons suspected to have or have been diagnosed with COVID-19, are waiting for your COVID-19 test result.
At entry of Church;
For Contact Tracing, QR codes available for your WA Safe App, as well as registration record.
Sanitising wipes are provided, please take one wipe to sanitise your own sitting place (including hand rest and seat)
Valentines' Day Raffle drawn 14th February
Congratulations to all winners, list on board in church Foyer, few winners have not collected their prize yet, please bring your winning ticket to collect your prize.
Fund Raising Cake Stall
Cake stalls will be at the end of each mass this week end, please support our fund raising cake stall as usual.
Those who wish to donate to cake stall, can bring their goods to the stall. Many thanks
SKP Centenary Celebration
On Sunday 21 March 2021, St Kieran Catholic Primary School is set to celebrate a landmark 100 years of education!
The school will celebrate with a mass at the St Kieran Parish, followed by an Open Day on the school grounds to honour the centenary.
St Kieran Parish priest Father Wilson Donizetti will officiate the day at 11.00am, joined by some of the Mercy Sisters who taught and attended St Kieran Catholic Primary School.
Staff, students and families past and present are encouraged to register their attendance by visiting https://bit.ly/2W6Buk4
Collection boxes
Now located in front of the pews near the altar, as collection baskets cannot be passed around.
Your contributions made will be part of our offering at mass.
DIRECT DEBITS Can also be arranged with your bank to have regular amounts paid into the church account as below.
Account: St Kieran Parish (Second Collection)
BSB 086 006 Account number: 670 197 551
Please pass this message around to all parishioners, if you know anyone wanting to be on the parish mailing list, please let me know their email to be added to our mailing list.
In Unity with God.
God Bless
Judith
Group 2
123 MAGIC AND EMOTION COACHING PARENT COURSE
TUART HILL OUT OF SCHOOL CARE VACATION PROGRAM